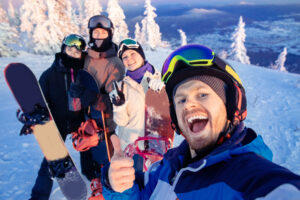 With international travel still off the cards this winter, you might be planning an Australian skiing holiday instead this year. Whether you've been travelling to the snow every year, or if this is your first time, you might be surprised to learn about ski resort liabilities.
American Law In Place Because Of Fatal Accident
Looking worldwide first, the American state of New Jersey has a law requiring you to make sure snow and ice has been removed from your entire vehicle before going out on the road. It came into effect in 2010 and is commonly referred to as "Jessica's Law" in memory of Jessica Smith who was killed when ice from a tractor-trailer hit a truck that then collided into her car.
Compensation For Personal Injury Due To Snow
Although there is no equivalent law in Australia like "Jessica's Law", there are avenues for financial compensation here. Support for you is available via our Compulsory Third Party system if you are injured as a result of another vehicle being overloaded with snow. 
Entitlement is based on injury arising from negligent operation of a motor vehicle and extending to include the circumstance where a driver fails to remove all of the snow or ice from the vehicle before driving.
Skiing Legal Responsibilities 
As our winter ski season gets under way, here's a consideration of the legal responsibilities associated with this sport. Ski resorts are generally responsible for the actions of its instructors.  
A recent case in the NSW Supreme Court of Castle v Perisher Blue Pty Ltd ([2020] NSWSC1652) arose after a claim was brought by Ms Castle, an experienced skier injured in a collision with Mr Thomas, a ski instructor employed by Perisher Ski Resort. 
The Court found that the accident was caused by the recklessness of the ski instructor.  Perisher accepted that it was responsible for the actions of its instructor, under the concept of the employer being vicariously liable for its employees.
However, Perisher escaped liability due to activation of a defence provided by State Government law (Civil Liability Act in NSW and noting that other Australian states have similar legislation) which declares that skiing is a dangerous recreational activity and therefore participants such as the Plaintiff (Ms Castle) accept the obvious risk arising from that activity.
Interestingly, the Court determined that Perisher could not rely on either a written warning within its Booking Terms and Conditions or on a liability waiver, which is typical elements of defence in these types of cases.  
In relation to the warning, the Court found that merely identifying in a booking document that persons might be negligent does not sufficiently direct attention to the risks associated with skiing.  A risk warning needs to specifically identify the nature of the risk.  
Here's to keeping safe on the ski slopes this season whether it's your first or hundredth visit. Did you know The Australian Alps, or Snowy Mountains as they are also known, receive more snow than Switzerland? 
Also, did you know that we get a mere fraction of the estimated 315 billion trillion snowflakes that fall on Earth each year?
If you have a personal injury or compensation enquiry, whether it's snow-related or not, please get in touch with our expert Personal Injuries and Compensation team.
We offer no win, no fee to our personal injury and compensation clients. If you have a claim, we offer our services to you without the requirement to pay any legal fees upfront. Get in touch today to see how we can help you. 
Please call our team on 07 5539 9688 or leave an enquiry and we'll be happy to assist you.