Written by MBA Lawyers Partners Mitchell Clark, Joelene Seaton and senior associate Aleena Mills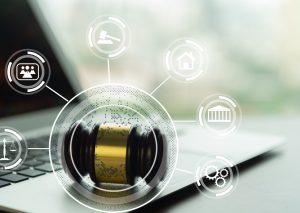 Virtual is the new real.  Thanks to Covid and its persistence, we've turned to new ways of interacting which are now almost (or should that be "virtually") second nature including adoption of Zoom and its similar applications as ways of connecting with each other, replacing the "traditional" meeting in-person.
Our Courts have adjusted to the times with the adoption of remote technology.  Traditionally, Courts required the parties in dispute and their witnesses to attend in-person.  Recently it became possible for witnesses to give their evidence remotely, such as a witness residing in Japan could join a Trial being held in Court in Brisbane by video or telephone link.  That form on interaction has now been extensively extended, so that the lawyers and the individual parties themselves can connect with the presiding Judge via Zoom (and during certain periods of time that's not only been an efficient or safe means of conducting the proceeding but was the only legally permissible way due to government-imposed restrictions during lockdowns prohibiting all in-person attendances).
These styles of functioning within the legal system reflect the enormous changes in our broader community.  Modern church is 'vurch' – or virtual church.  Telehealth services are delivered virtually.  A certain famous Swedish pop group recently announced the plan of a virtual tour featuring their virtual selves singing new material, coining the expression ABBAtars, instead of avatars.
The new Legal Real
Here's samples of the new legal real:
In response to Covid-19 restrictions and lockdowns, state governments throughout Australia enacted legislation to enable documents to be witnessed electronically. For example, in Queensland, a witness is able to observe the signatory sign formal documents such as an application, affidavit, transfer or mortgage in real time over audio-visual link. Until recently, wills and enduring powers of attorney were also able to be witnessed by audio-visual link, but this option has now been revoked.
Many procedural court events in the Federal Circuit and Family Court of Australia are now conducted over the phone or by Microsoft Teams. Prior to the pandemic, the Court would consider a request to appear by phone on a case-by-case basis. Now, most appearances are automatically conducted by audio / audio-visual link up, as a response to the COVID-19 pandemic. It remains to be seen whether this will continue into the future;
When drafting wills clauses that provide for the gifting of digital assets, including images, photos and audio files, are now standard. Will-makers are also advised to maintain a list of their digital usernames and passwords so that their executor can more readily access their digital assets when required.
Parenting orders typically include clauses for children to spend time with their parents by electronic means such as Facetime or Skype, either in lieu of or in addition to phone or email contact. Parents often agree to use specially designed apps to communicate with one another in relation to their children. Apps such as Our Family Wizard and WeParent allow parents to share photos, calendars, timetables, contacts and messages in one central place, the content of which can be easily downloaded and used as evidence in court proceedings where required.
The new forms of virtual communication have also created new dangers in legal cases.  For example, claimants in insurance claims have come undone through revealing posts on social media.
Managing your image virtually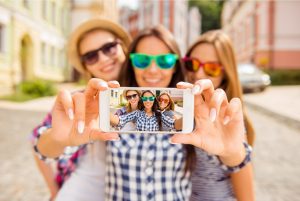 Texting, sexting, and Instagram photo sharing abound.
A lot of time is spent on giving advice to family law clients around the do's, and more particularly the don'ts, of social media. For example, don't publish photos of your children online without the other parent's consent. Don't secretly film hostile interactions at changeovers or phone calls with the other parent and expect to be able to use the films as evidence in court. Don't upload to social media provocative photos of you and your new partner on that lavish holiday when you have child support arrears or are crying poor to your ex-partner.
Even old school gets up to date
The internet has us all connected, and we all have had to adapt.
The Courts too, although certain aspects of the system still remain "old school".  For example, Court papers today are filed electronically.  Judges write, edit, and save their opinions on the computer.  The Court officials, including Judges, exchange emails with the legal representatives of the parties.  Much legal research is digitally conducted.  All this saves time and money, which is a good thing!
Now that the world has gone digital, Courtroom style has changed enormously over the last five or so years.
Judges have seen technology as a way of improving Court administration and the efficiency of the conduct of Trials.
Where there has been hesitation is with the introduction of limits on the use of the technology.  Having Trials televised in Australia, for example, is presently outlawed.  Any unauthorised recording of the Trial proceeding is outlawed.
Stern prohibitions remain in place on the use within the Courthouse (particularly within the Courtrooms themselves) on mobile phones as well as tablets and computers.  The rational is to avoid the risk of abuse via personal electronic recording devices.  The Judge is supposed to get his information from the testimony of witnesses and documentary evidence presented within the Courtroom.
Finding the Virtue in Virtually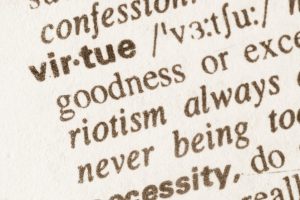 "Virtual" is a variation of a "virtue" in our language and comes from virtutem which in Latin means "good character".  The effect is that your goodness is deemed an inner quality, your essence in a sense.
In our legal system, "good character" is a foundation stone.  A person's honesty is paramount.  For example, a Judge will often be required to adjudicate between two competing versions of events. In in that decision the Judge is required to indicate which version he considers to be believable.  In many features of the legal system then someone's "credit" is extremely important.  In the context of a Trial, the Judge will evaluate the testimony of a witness on its face-value yet influenced by a Judge's view of that witness's credit.  So in basic terms, a witness that a Judge does not believe will not have any influence on the Judge's adjudication.
Thanks to the disruption of the last two years, we are now so changed that we even gather on Friday afternoons after work for virtual drinks… or rather gathering virtually with real drinks!
MBA Lawyers will remain open virtually this holiday season to assist you with any enquiries you may have. Our physical office will be closed from 5pm Thursday, 23 December and will reopen at 8.30am on Monday, 10 January 2022.